March 2023

Sometimes I have to eat my words. In my last newsletter I said that not a single person volunteered to help. Now, I am pleased to say that Charles DiLeo (1966-1968) has stepped forward and is researching possible reunion locations along the Gulf Coast, New Orleans, Gulfport, Biloxi, etc., and he is also trying to get some information on Little Rock, AR., site of the USS Razorback (SS-394) museum. Many thanks to Charlie for pitching in.
Time is extremely short. Even if Charlie finds a great location we may not be able to schedule our reunion for this year. In that case I have an excellent fallback possibility at the Landmark in Myrtle Beach, SC. For those of you that have not been there, the hotel is ocean front, room prices are great, and there is a totally new show in town for our entertainment. We could have a 3 or 4 day reunion there starting the week of September 24, 2023.
If that is well attended and successful, then we could have our next reunion at one of Charlie's picks. Things are looking up.
Now back to volunteers . . .
No matter where we go, we could use some help and fresh ideas. Important note – please coordinate this with me. I don't want 5 people working on the same project.
I am looking for someone to call maybe ten diesel boats that have had recent reunions. The goal here is to find out what internal activities they do at their reunions that are enjoyable, work well or don't work at all.
At our reunion we might want to have a flea market, auction, swap meet or simply a display of submarine and nautical treasures. I'm looking for someone to expand on that idea and make it happen.
Someone to be our reunion photographer. He would take photos of each reunion attendee / couple as they went to the banquet, group pictures of all the guys and all the wives, and snap interesting pics of group activities.
Don't worry, I'll be asking for more and different volunteers as our reunion plans firm up.
---
* * * From the Quartermaster's Notebook * * *
Binnacle List . . . These shipmates are facing some serious challenges and would like to hear from you. A simple email, card or phone call means so much to them. Find out more info about your friends on the Sennet web site page "Binnacle List."
TM1(SS) Hubert "Dale" Cross (1959-1968) has Alzheimer's. He continues to live at home in Ethridge, TN with round-the-clock nursing care. Cards or letters to may be sent to me, and I will forward them to the nursing staff.
Hubert Dale Cross
c/o Stan Pollard
3016 Bayberry Cv.
Wooster, OH 44691-5912
RM2(SS) Robert J. "Bob" Mullin (1958-1960) has Alzheimer's and lives in a memory care facility in Rutland, VT. Cards or letters may be sent to his son, and he will share them with Bob.
Robert Mullin
c/om Kevin Mullin
118 Ox Yoke Dr.
Rutland,mVT 05701-9301
Eternal Patrol . . . EM3(SS) Donald R. Oakes (1963-1966) departed December 25, 2022. We will remember Don and our other departed shipmates at our next reunion's Memorial Service.

Special thanks to Ron & Connie Bycroft (1966-68) who send condolence cards to the families of deceased crew members.
Donations . . . Many thanks to Richard "Dick" Wiley (1967-1968 decom) for his generous contribution. Contributions help to make our newsletters, website and reunions possible. Simply said, donations reunite friends. Make your check payable to: USS Sennet SS-408 Reunion Fund and mail to Ralph Luther. His address is below.
Ship's Store . . . Ralph Luther stocks a limited supply of Sennet unique submarine items like:
T-Shirts - $22 – Navy blue shirts with the Sennet logo embroidered above the pocket and a submarine veteran screen print on the back. Sizes Lg, XL, and XXL.

Ball caps - $14

Ships patches (cloth) - $5

Hoodies - $30 – submarine veteran screen printed on the back. Only in size XXL.

Submarine wife pins - $5.

Sennet challenge coins - $5.
Prices do not include postage. Contact Ralph Luther by email for availability and total cost. All revenue goes 100% into the Reunion Fund.
Make checks payable to: USS Sennet SS-408 Reunion Fund and mail to:
USS Sennet SS-408
c/o Ralph Luther
107 Wood Side Dr.
Summerville, SC 29485-9301

Email: rluther107@gmail.com
---

And Now The News . . .
The Dept of Veteran Affairs is raising awareness of little-used benefits for veterans: burial at a VA, state or tribal veterans cemetery, and headstones or markers for vets buried in private cemeteries.
According to VA officials, just 20% of eligible veterans who died last year were buried in a VA- managed or supported cemetery, a benefit that comes at no cost to the veteran's family. And fewer than half who qualified for a burial allowance or headstone used the opportunity.
The VA is spreading the word to veterans and families that vets can apply for eligibility before they die, taking care of the needed paperwork beforehand to ease the financial and emotional burden on their families and make their wishes known.
---

More News . . .
In December 2022 the Navy authorized construction of a Virginia class submarine to be named USS Arizona (SSN-803). It will be the first U.S. naval vessel to bear the name Arizona since battleship USS Arizona (BB 39) was sunk during the attack on Pearl Harbor on Dec. 7, 1941. After being struck with several bombs, Arizona burned for two days and more than 1100 of her crew were lost. The lives lost during the attack are now permanently memorialized by the USS Arizona Memorial, erected over her sunken hull in the berth she has occupied since that historic day.
Virginia class submarines are the most advanced attack submarines ever designed. Their stealth, firepower, and maneuverability are superior to every other attack submarine force in the world. Arizona will be the first of the Virginia-class equipped with the Virginia Payload Module, enabling the submarine to deliver an even wider variety of capabilities.
The ship's sponsor, Nikki Stratton, is the granddaughter of Donald Stratton, who was serving as a Seaman First Class aboard Arizona during the 1941 attack. Badly burned, he was discharged in 1942, but successfully reenlisted in 1944 and returned to the Western Pacific serving aboard destroyer USS Stack (DD-406) to fight in New Guinea, the Philippines and the Battle of Okinawa. Stratton spent the remainder of his life helping honor those who gave their lives during the attack on Pearl Harbor and other battles. He died at the age of 97, in February 2020.
Per Navy tradition, the ship's sponsor's initials were welded onto a steel plate to be permanently mounted in a place of honor on the completed vessel.
The Arizona Memorial is in Pearl Harbor, HI., and the former battleship USS Missouri (BB-63) is moored nearby. The Japanese surrendered on board Missouri. Together they mark the beginning and the end of the Second World War.
So . . . you might ask, "If there is a submarine named USS Arizona, is there a submarine named USS Missouri?"
Yes . . . The USS Missouri (SSN-780), another Virginia class submarine, entered service in 2010 and is home ported in Pearl Harbor, HI. Like other boats in her class, Missouri displaces 7,800 tons submerged, is 377 feet long and 34 feet abeam. Speed and depth are classified. Her reactor supplies 280,000 shp and will last 33 years without refueling, therefore her range is essentially unlimited. She is manned by 134 officers and crew.
USS Sennet displaced 2,401 tons submerged, was 312 ft long, with a 27 ft beam, and 2,740 shp submerged. Her range was 11,000 nm. Sennet was normally manned with 10 officers and 70-71 enlisted.
Just thought you might like to know.
---
Green Board,
Stan Pollard
---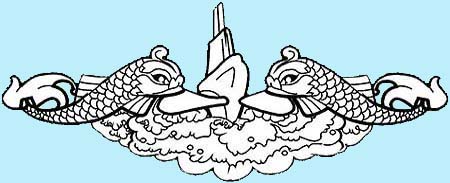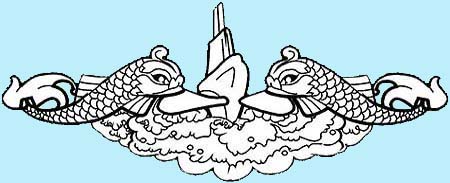 USS SENNET (SS-408)
All Hands Newsletter