USS SENNET (SS-408)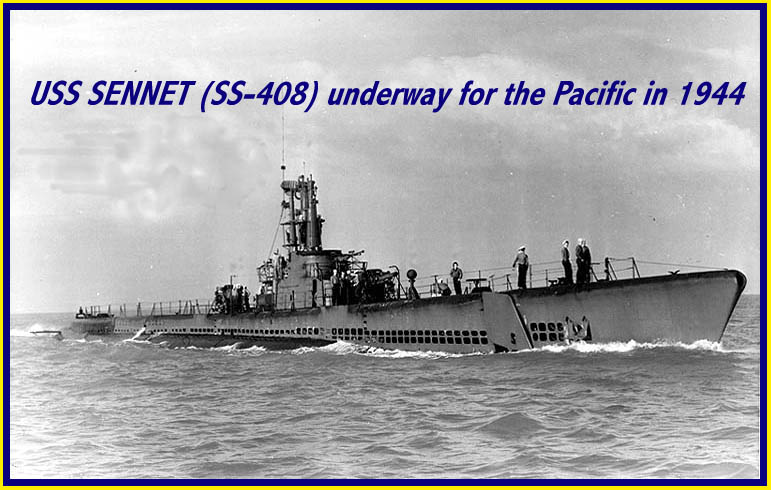 USS SENNET (SS-408) was a fleet submarine built in Portsmouth Naval Shipyard at Kittery, Maine and commissioned on 22 August 1944. She made four war patrols in the Pacific sinking 18,276 tons. On her fourth and last patrol, SENNET slipped through enemy minefields and penetrated the Sea of Japan earning the Navy Cross for her skipper and making all of her crew members of the "Mighty Mine Dodgers Society." After the war, SENNET participated in Admiral Byrd's third Antarctic Expedition, operated extensively in the Atlantic, Mediterranean, and Caribbean, and made two circumnavigations of South America during UNITAS IV and VIII. USS SENNET was decommissioned in Charleston, SC on 02 December 1968 and sold for scrap 15 June 1973. That's her military record, but there's much more to tell.
and her crew
SENNET was 1870 tons of machinery, batteries, engines, fuel, and torpedoes crammed into a steel tube just 312 feet long. She was complex, rugged, and functional. She was never comfortable, convenient, or easy to operate. But SENNET was home to over 1,500 sailors during her 24 years of service.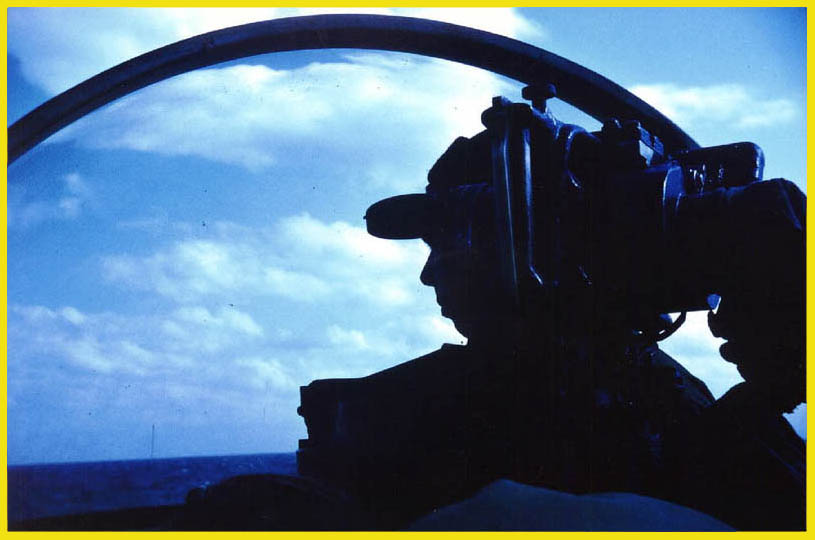 Most of SENNET's crew weren't much more than boys when they first crossed her brow. She was their first home away from home. SENNET became their mother, mistress, tutor, and taskmaster. She was an exciting adventure to exotic ports, yet she required endless hours of dreary toil. She taught independence and self-reliance, but she demanded teamwork and trust. She nurtured warmth and close friendships, while she carried her crew far away from family and loved ones. She offered safety from detection in the ocean's depths, but the pressure of the depths was a greater danger. SENNET was crowded and cramped; hot in the summer and cold in the winter. She was not much to love, and most of her crew swore that they would be glad when they crossed her brow for the last time.
Most secretly felt much differently when that day arrived. Each of them left with memories of their time onboard when they were young and bold and adventurous. They left with memories of friendships and camaraderie through good times and bad. And they left with memories of their home away from home.
This web site is dedicated to those memories.
Welcome aboard!
If you are a former SENNETor, please join us. We have a large group of more than 600 former crew members, ranging from plankowners to decommissioning crew. Our purpose is to reunite friends, to revive our submarine camaraderie, and to celebrate some of the excitement of our youth. We hold annual reunions, and we have no dues. See our Newsletters page for further information and contacts.
To log onboard and join your shipmates, just contact me at 408.stan@gmail.com and start practicing your sea stories.
Webmaster: Stan Pollard